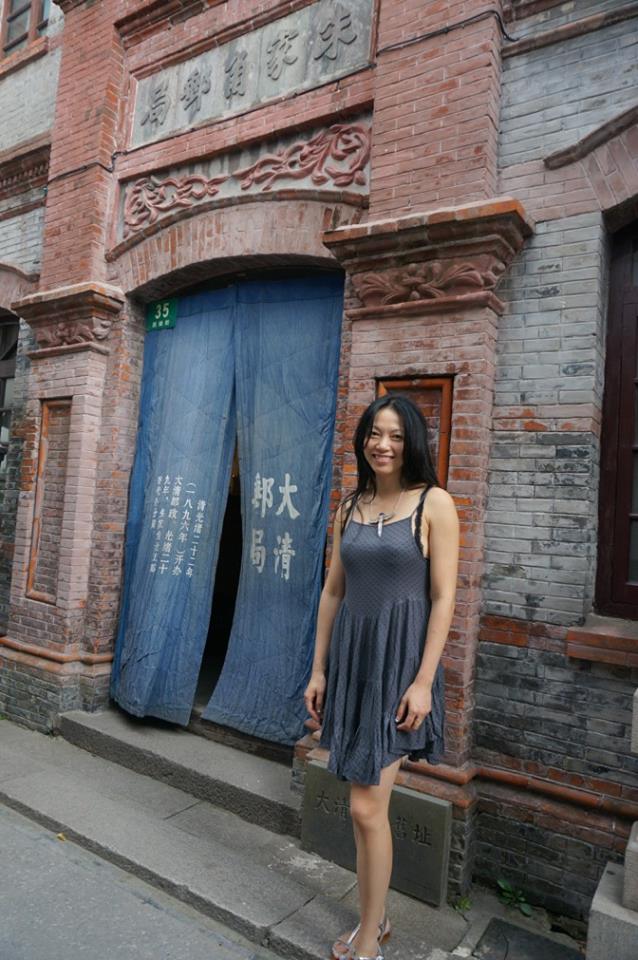 During MuLan and MuAn's school summer holiday, I took them on a trip to Shanghai. When we arrived there, the weather was boiling hot and humid. The weather forecast on the radio said there would be a typhoon on the day after we arrived, so we took the opportunity to go out of town before the storm.
Zhujiajiao (朱家角; pinyin: Zhūjiājiǎo) is a water town one hour out of Shanghai. It was established about 1,700 years ago. Archaeological findings dating back 5,000 years have also been found. 36 stone bridges and numerous rivers line Zhujiajiao, and many ancient buildings still line the riverbanks today. The village became a prosperous town during the Ming Dynasty due to rice trade. During the Qing Dynasty the trade along its canals connecting Huangpu River and Lake Tai made it an important trading town for hundreds of years.
Although it was rather touristy, it was probably one of the few places where you could see a little bit of ancient Chinese history when the rest of it has been completely modernised. We rushed into a tea house when we were caught by rain shower. The hostess was pretty proud to tell us that her tiny and charming tea house was built 100 years ago. I could not tell, as all I saw was the white plaster walls and glass windows looking over the canal.
We walked across at least 10 bridges and hundreds of shops. Everyone was trying to sell something. An elderly lady kept following us for some time. She tried to sell us gold fish in plastic bags. She said it's good for our karma if we buy her gold fish and set them free in the water. The problem is the water was so polluted that I knew those gold fish would be toxicated and not able to survive. I had to decline her kindness of providing the opportunity to improve my karma.
Our trip to Zhujiajiao was concluded by an amazing private house called 和心園 (he2 xin1 yuan2). It was one of the most elegant, beautiful places I've seen in China. The irony was this amazing ancient-looking compound was in fact constructed in 2008 by a wealthy Chinese man. The owner bought a massive piece of land used to be home of 10+ households and reconstructed this incredible garden/house based on historical Chinese architectural and landscape design. He also has a very impressive collection of Chinese antique furniture, paintings, stones, and decorative items. I had such a great time indulging myself in those beautiful pieces of Chinese art and design until MuLan and MuAn protested.
Shanghai, it is such amazing place that I learn new things every trip!